By Craig Andresen – Right Side Patriots on American Political Radio
Dear Liberals…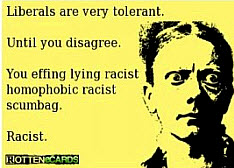 Either you're lying, or you're as dumb as a box of bricks.
I suspect it's a combination of the two.
The entire world is watching your complete and utter meltdown and third world regimes that are holding on by a thread are laughing at you. You want to become the Emperor and yet you continue to run amok stark naked believing that everyone is admiring your make-believe cloak of tolerance.
You're not fooling anyone.
To you, the entire world exists in 140 characters or less, and in your world, your actions only have a shelf-life of a nanosecond, or as long as it takes for your Twitter feed to scroll down because ten other people either tweeted a photo of themselves in a bathroom mirror, or they tried to abbreviate a series of monosyllabic words into a bag of barfed up alphabet soup with a hashtag they hope beyond hope will catch on.
Oh…I'm just getting started…