Be sure to Click LIKE at the bottom of this article, and share it everywhere!! By Craig Andresen – Right Side Patriots on American Political Radio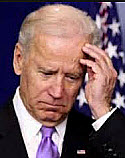 The implosion, and imminent demise of Joe Biden in the 2020 presidential race is epic, but it has now gone beyond funny gaffes and nonsense to outright scary.
While he's long been the butt of jokes for saying the wrong things at inappropriate times, and rightly so, Biden's mental state now seems to be descending rapidly into what could be dementia, or some form of it.
For years, he's had a great deal of trouble remembering where he is at any given time, and just a little more than a week ago, on the day of the New Hampshire primary at a final campaign stop, he actually thought he was in Nevada.
But just a couple of days ago, what I believe to be the true nature of whatever it is that Biden is suffering from became so glaringly clear that even his dwindling numbers of supporters were left wondering about their candidate's mental state.
Biden was in South Carolina campaigning, giving a speech when he said, and I quote…