By Craig Andresen and Diane Sori / Right Side Patriots
Albert Einstein once said, "I do not know with what weapons World War III will be fought,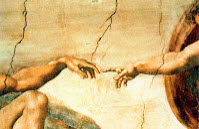 but World War IV will be fought with sticks and stones"…and how right he is but not for the reason you might think.
Both modern Jewish and Christian beliefs still hold to traditions from the Old Testament in regards to creation with both great faiths believing that Adam was created from the dust and dirt by the hand of God. Also, Jews believe the place where Abraham was to sacrifice Isaac to God the Father and where Christians believe that Jesus was crucified is holy and sacred ground. And built upon this holiest of grounds is also where the First and Second Temples of the Jews were built, and where certain denominations of Christians believe the that Third Temple will arise and be the site of Jesus' Second Coming and where Jews believe the messiah will first appear.
But what do these varied beliefs have as a common point of reference…simply…the land itself upon which these events did occur and which might possibly see holy events again occur in the future. And that land itself is known as The Temple Mount…an area of only thirty-five acres in the southwest corner of Jerusalem's 'Old City'…yet it is the most contested piece of land on Earth. And that contested land sits under…yes under…the Al-Asqa mosque (Masjid Al-Aqsa)…which in Arabic simply means the 'farthest mosque.'