Be sure to Click LIKE at the bottom of this article, and share it everywhere!!
By Craig Andresen – Right Side Patriots on American Political Radio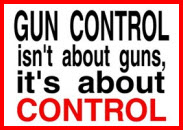 Last week, in the wake of mass murders in Gilroy, California, El Paso, Texas and Dayton, Ohio, President Trump said, "Mental illness and hatred pulls the trigger, not the gun." Naturally, that had liberals, especially those running for their party's 2020 presidential nomination boiling mad.
Liberals were fit to be tied because they know he's right, and because that line of thinking is in direct opposition to the liberal agenda of relieving law abiding American citizens of their rights under the 2nd Amendment, and of their decades of preaching that the guns themselves, or other factors opposed to their agenda are the problem.
Liberals don't want to address the real issue where such acts of violence are concerned, and there's a damn good reason why they don't want to address those things. Doing so would produce a two-fold detriment to the liberal agenda…fund raising would suffer, and such introspection would expose and destroy a major plank in their platform.
Let's look at fundraising first.