Be sure to Click LIKE at the bottom of this article, and share it everywhere!!
By Craig Andresen – Right Side Patriots on American Political Radio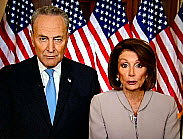 Just imagine having elected leaders standing in front of a bank of American flags telling the nation that they are opposed to protecting and defending not only our nation, but the American people.
You don't have to imagine it…it happened.
Just six years ago, Nancy Pelosi supported the building of 700 miles of border wall, and she was not alone. Far from it in fact.
Back then, congressional democrats were nearly unanimous in their support of such a wall.
Six short years ago, while Hussein Obama occupied the Oval Office, no less than Chuckles Schumer and Dickie Durbin had THIS to say regarding 700 miles of border wall…"Not later than 180 days after the date of the enactment of this Act, the Secretary [of Homeland Security] shall establish . . . the 'Southern Border Fencing Strategy,' to identify where 700 miles of fencing (including double-layer fencing) . . . should be deployed along the Southern border."
Oh, my…
That was in relation to the Gang of 8 bill which also made something else quite clear…