By Craig Andresen – Right Side Patriots on American Political Radio
Somewhere in a swirl of depression, delusion and desperation, exists the liberal/socialist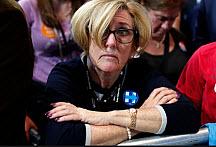 party formerly known as democrats. They are unhinged, and more frenzied than a spastic poodle in a room full of ADHD squirrels.
The MINORITY in both halls of congress seems to think they have the power to impeach the president…because they apparently weren't paying attention to School House Rock as children, and last week, their desperation manifested itself in epic fits of irrelevance.
Just a couple of years ago, Barack Hussein Obama traded 5 Taliban war council members for 1 U.S. traitor, thus releasing the Islamists back into the wild, and theaters of war…and the liberal/socialists said nothing.
No stink was raised by a single liberal anywhere…