By Craig Andresen on June 17, 2014 at 12:01 pm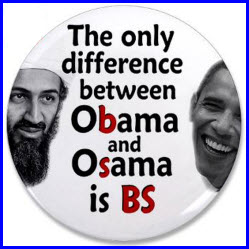 When it comes to Iraq and the vile barbarians hell bent on genocide there, along with everything else going on right now, I have a few questions and first and foremost among them is…What the hell???
Obama makes it clear that he is NOT going to send ground troops into Iraq to take on ISIS…except for the 275 ground troops he just sent there?  What the hell???
Those troops are combat armed. Okay. They are NOT going to engage in combat with ISIS??? What the hell???
Obama is now talking to…IRAN…regarding military actions against ISIS? What the hell??? Obama says OUR military will NOT be joining with Iran to fight ISIS??? What the hell???
Obama claims he and his regime were caught off guard by the rise and genocidal actions OF ISIS???
Seriously…what the hell?
Let me see if I have this straight…Obama announces to our enemies in Iraq exactly when our troops will be removed FROM Iraq…he seeks absolutely NO provisions for a residual force of troops in Iraq to repel any militant Islamic terrorist uprisings there, thus creating the exact sort of vacuum militant, barbarian, Islamic terrorists seek to fill…he tells the nation during his campaign in 2012 that al-Qaeda is "on the run" is…"decimated" and "defeated" while in reality he knows damn well they are actively rebuilding and gaining strength and yet…ISIS, the Islamic State of Syria and Iran…an Islamic terrorist CALIPHATE in the making comes STREAMING out of SYRIA where HE has been ARMING ISLAMIC "rebels" and…HE'S CAUGHT OFF GUARD?????
Obama armed "rebels" in Libya…Hillary HIRED an al-Qaeda wing to provide "security" in Benghazi…Obama was by all reasonable accounts running weapons between al-Qaeda in Libya to al-Qaeda in Syria…both being our enemies in a time of war and thus committing treason…those terrorists attack our mission in Benghazi and our CIA annex there murdering 4 Americans…Ambassador Chris Stevens, Glen Doherty, Sean Smith and Tyrone Woods…Obama announces just a couple of weeks ago that he is AGAIN arming Syrian "rebels" while he releases 5 Taliban TERRORISTS in a trade for a DESERTER and it comes out that Hillary's State Department had GIFTED hundreds of surface to air and STINGER missiles TO the Taliban and all of a sudden…out of nowhere…ISIS springs into barbaric action murdering civilians and any who aren't Sunni Muslims and…