By Craig Andresen – Right Side Patriots on American Political Radio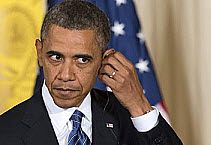 Obama says it never happened. He says that President Trump's claim of having been wiretapped is completely false.
Once again…Obama is flat-out lying.
Somebody apparently got wiretap permits from a FISA court…and reportedly, six different intel organizations  engaged in wiretapping and cyber surveillance of Donald Trump and his advisors since late last October…and those six agencies sought, and received permission to SHARE any information they gleaned with SIXTEEN intel agencies.
Obama had to know all about it and furthermore…it's a damn good bet that he, himself, ordered it from start to finish.
In fact, the federally filed surveillance requests…FISA court requests…