By Craig Andresen – Right Side Patriots on American Political Radio
Donald Trump Jr. is, apparently, the very first person connected to a presidential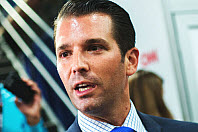 campaign, in the history of historic things, to take a meeting with someone who is purported to have information of some interest on the opposition candidate.
Never mind that Ted Kennedy, while making his own run at the White House, took a meeting with the KGB in an effort to get the goods on Ronald Reagan.
It's not the same thing, and you know it.
This was Donald Trump Jr. taking a meeting with a Russian attorney…Natalia Buyadamnvowelortwowhydon'tya…whom he was led to believe had some dirt on Hillary Clinton. See…completely different from Ted Kennedy meeting with the KGB to gather dirt on Reagan. Completely different…not even close to the same thing.
It's like comparing apples to…