Be sure to Click LIKE at the bottom of this article, and share it everywhere!!
By Craig Andresen – Right Side Patriots on American Political Radio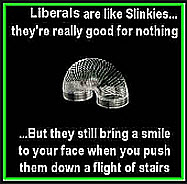 Liberals, it seems, just can't get out of their own way.
Day after day, week after week, and month by month, liberals manage to cause themselves all sorts of problems, and what happens next is so…
Well…
Liberal.
Let me give you a few examples of what I'm talking about. For better than two years, all we heard about from liberals…liberals elected to office, liberals that comprise the mainstream media, liberals on the street and Hollywierd liberals was "RUSSIA, RUSSIA RUSSIA." as they rattled, and prattled on and on about the make believeTrump Russian conspiracy.
GUILTY they all claimed…EVIDENCE was at hand, they all chimed…INVESTIGATE…IMPEACH…JAIL was their collective mantra.
And then, even as it was just getting started, it all began to unravel on them. In the early days of the liberal bloviations, the Steele dossier was proven to be a manufactured phony piece of garbage…then it was shown that it was bought and paid for by Hillary and the DNC, and that THEY paid a former British spy to go to the Russians for make-believe dirt on Trump. HILLARY and the DNC were conspiring with the Russians…NOT Trump.