By Craig Andresen – The National Patriot and Right Side Patriots on americanpbn.com
According to Donald Trump, "I could stand in the middle of 5th avenue and shoot people an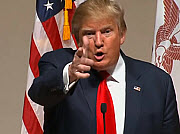 d I wouldn't lose voters."
Is he the only one who could do such a thing and not lose any of his support?
No.
Any penny-ante, tin-pot dictator in any 3rd world, one horse rogue nation could do it. Lil Kim in North Korea could do it. There was a time when Saddam and Gaddafi could have done it. Lenin and Stalin and Hitler did do it.
Forget 3rd world, one horse rogue nations…hell, Obama could get away with it just to name another dictator and that is exactly what's wrong in this country. Electing a president has become a side show rather than a concerted effort to choose who would actually be the best for the job.
After Trump made his latest, 'out of touch with reality' statement on Saturday afternoon…his Trump-drunk followers started making excuses…"it was taken out of context," and "he didn't mean anything by it." "Lighten up, he's joking."
Bullcrap…