Be sure to Click LIKE at the bottom of this article, and share it everywhere!!
By Craig Andresen – Right Side Patriots on American Political Radio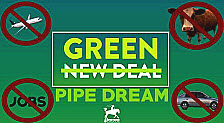 It's easy to make fun of the "Green New Deal." Lord knows I've had a good time snarking at it for several months now. It's ridiculous…possibly insane…and it's exactly what we expect from today's liberals.
On the face of it, the "Green New Deal" is laughable.
AOC, that bone-crushingly inane twerp in the House came up with the idea that all fossil fuel energy in this country must be done away with post haste. According to the bartender, no more cars, no more trucks, ships, airplanes or anything else that uses fossil fuels will be allowed.
How can anyone take that seriously?