By Craig Andresen – Right Side Patriots on American Political Radio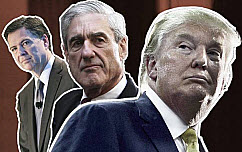 Okay…now let me just see if I have this all straight…
Deputy Attorney General, Rod J. Rosenstein penned a memo to President Trump outlining why James Comey should be dismissed from his position as the Director of the FBI.
President Trump acted upon that memo from Rosenstein and fired Comey.
Liberals came unhinged and demanded that Rosenstein appoint a Special Prosecutor to handle the whole "Russian meddling" thing.
Rosenstein, under pressure from the MINORITY members of congress appointed Robert Mueller as that Special Prosecutor.
Mueller and Comey are more than acquaintances…they are old friends.
Mueller has enlisted the assistance of several high dollar attorneys for the purposes of his investigation…and many of those attorneys are directly attached to Hillary Clinton.
Interesting, but it gets better…