Be sure to Click LIKE at the bottom of this article, and share it everywhere!!
By Craig Andresen – Right Side Patriots on American Political Radio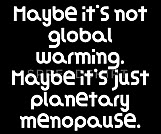 Well, the global warming, climate change loons are at it again.
Lately, we've all been regaled with predictions of doom and gloom form weather weenies like AOC, who told us a while back that civilization would end in 12 years if we don't do something about climate change now, and by something, she meant that we need to do away with cars, boats, trains and airplanes immediately.
That would make it virtually impossible for any such given loon to make it to wherever the next climate change conference is to be held, but that's quite beside the point I suppose.
Then it was Beto O'Dork who shaved 2 years off the AOC prediction and told us all that we only have 10 years left before civilization comes to an end if something isn't done regarding the weather at taxpayer expense.
Apparently, according to liberals…