By Craig Andresen – Right Side Patriots on American Political Radio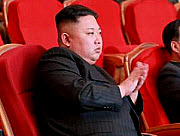 North Korea is a hermit kingdom, run by a tin-pot dictator who is not only prone to having family members assassinated on a whim, but brutal enough to kill those of his own citizens who he suspects might be dissidents and enslave their families.
From his grandfather, to his father, and now to him, Kim Jong Un has isolated his people from the rest of the world, starved them, and murdered them.
North Korea is a nation of nothingness…and yet…
They are terrorizing their neighbors, and holding the rest of the world hostage.
How can this be?
Simple…