Be sure to Click LIKE at the bottom of this article, and share it everywhere!!
By Craig Andresen – Right Side Patriots on American Political Radio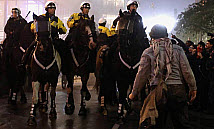 Last week, the political party tolerance, peace, free speech and equality was at it again as they sent their ambassadors and moral guardians into the streets of Minneapolis to welcome Republicans and Conservatives who were arriving, and departing a Trump rally in the Target Center.
Typically, things got ugly, as they often do when democrats gather, and the hateful mob of liberals attacked Trump supporters as they arrived, and again as they left after the rally.
Reports stated that there was the customary pushing and shoving, the requisite punching of Trump supporters, arson…always a must at any given democrat-led protest, the throwing of urine at Trump supporters, and of course, the always relied upon shouts calling individual Trump supporters…Nazis.
Congressional Republican, Mark Meadows from North Carolina immediately called the typical display of hatred by democrats lawlessness.
Meadows said…