Be sure to Click LIKE at the bottom of this article, and share it everywhere!!
By Craig Andresen – Right Side Patriots on American Political Radio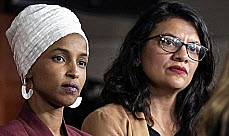 So…for months, seriously from the day they entered the U.S. House, Rashida Tlaib, and Ilhan Omar have taken every opportunity they could find, and when one failed to present itself, those two islamists manufactured reasons to spew their hatred of Israel everywhere they could.
They tweeted, they FB posted, they gave interviews, and joined in on rallies and boycotts against Israel. They have had nothing but vile, vulgar and typically, liberally nasty things to say about Israel and they have openly advocated the boycotting of Israel.
When APAC put together a delegation of 72 members of congress to travel to Israel…guess who turned down the invite?
Yep…Tlaib and Omar…but…