Be sure to Click LIKE at the bottom of this article, and share it everywhere!!
By Craig Andresen – Right Side Patriots on American Political Radio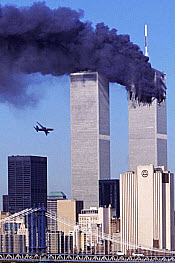 8:46am.
9:03am.
9:37am.
9:59am.
10:03am.
10:28am.
On 9/11 2001, the day was a blur for anyone who old enough to be paying attention to the breaking news. It also remains crystal clear to those who are still paying attention. It all happened so fast, and yet it seemed like slow motion.
At 8:46am, American Airlines Flight 11 crashed into floors 93 through 99 of the North Tower (1 WTC).
At 9:03, as people stared at the gaping hole in 1WTC, trying to figure out how such a thing could happen, but before people began to ponder the loss of life, United Airlines Flight 175 smashed into floors 77 through 85 of the South Tower (2 WTC).