By Craig Andresen – The National Patriot and Right Side Patriots on americanpbn.com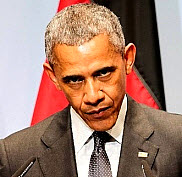 With the release of Bow Bergdahl, a deserter who is now facing court martial and for whom, 6 American soldiers were killed…Barack Hussein Obama set the standard for Islamists. Take Americans, hold them hostage and Obama will give you damn near anything you want for them. He'll pay the ransom.
Last week, 10 American sailors were taken by Iran and in what I am sure was just a convenient coincidence, Obama released 10 GITMO scum the day after Iran sent our sailors back to our Navy and…so far…Iran still has our boats which, I am quite sure, go nicely with the drone Obama gave them a few years ago.
Now we have the great prisoner swap where we got 4 Americans back from Iran and THEY got 7 Iranian nuclear "researchers" back from US along with 14 more who had charges against THEM dropped.
The message from Obama is clear…if you're a jihadi, some 7th century barbarian and you come across an American…grab them, demand a ransom and then just sit back and wait to get paid. Nothing to it.
This insanity must stop and I believe the perfect jumping off point is at hand.